Archives by date
You are browsing the site archives by date.
EXAMPLE Bud's luck changed dramatically throughout the book. In the beginning, Bud's luck seemed to be bad. For example, we know that his mom died and that he was in a orphanage then, sent to a few foster homes. The last foster home he went to was the Amos'. Bud's luck here was rotten. Bud […]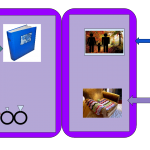 We read Bud, Not Buddy. He carried a suitcase. This is what I would put in mine.