I LOVE math! I really do. To me it makes so much sense. So for years I have asked my students to explain how they arrived at a certain answer in math. I know, totally doing Common Core before my time. Anyway, I was impressed by the use of academic language and the ease in […]
So normally a person wouldn't pair Angry Birds, a sign that reads F.A.I.L (First Attempt in Learning), and school philosophy in a lesson to 5th graders; let alone 5th graders on the 1st day of school. But I did, and I'd say that I'm pretty darn brilliant. F irst A ttempt I n L earning […]
So last week we had our very first Mystery Hangout. A Mystery Skype/Hangout is where 2 classrooms 'meet' online and try to figure out where the other one lives. So for this one, we 'met' our class on a Wednesday morning. We each took turns asking yes/no questions. We began by asking very broad questions […]
So this week we have been discussing THEME in literature, and how it is different from TOPIC. For example, we read a story from Afghanistan about a village that was afraid of a melon because they thought it was a terrible animal. A boy told them that it was just a delicious melon. We discovered that the […]
One of my students is the Queen of Homophones. In order to help us she created this handy little chart. Thank you Amy!
Well, Winter Break was very relaxing and fun. However, I realized that too many people focus on what they got for the Holidays and not enough on what they gave. So in an effort to change that, I am wondering what you all gave? I gave flowers. I know that my aunt loves flowers and […]
It was an amazing time. I met so many wonderful educators and learned so much. I know people say, "I learned a lot," but I really did. So much, that my head is still spinning. I can't wait to show my students some of the cool things. In addition, I was able to meet our […]
Halloween is celebrated by many in the United States. However, there are many people who do not celebrate Halloween. In this essay, we will talk about the reasons why people do and do not celebrate Halloween. Some people like to celebrate Halloween for many reasons. Children like to go Trick-or-Treating. This is where children wear […]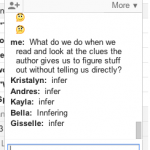 Today while working on our Google Apps (Gmail), the students discovered (Kristalyn to be specific) they could have a group chat. So using our Google Chromebooks we had a giant group chat. This then turned into a vocabulary game. I joined in the discussion and began asking them questions. What a great impromptu learning opportunity!
We have been working with idioms this week. Each student took an idiom of their choice, illustrated it, and told its actual meaning. To do this we used Drawings in our Google features. Here is a great example by Dennis.